The ketogenic diet plan is a very low carb, high fat diet that shares many similarities with the Atkins and low carb diets. To help get you started here's the Ketogenic diet plan for beginners and foods to avoid on Keto Diet for Beginners:
Foods to avoid
Any food that's high in carbs should be limited in Keto Diet.
Here's a list of foods that need to be reduced or eliminated on a ketogenic diet:
Sugary Foods: Soda, fruit juice, smoothies, cake, ice cream, candy, etc.
Grains or Starches: Wheat-based products, rice, pasta, cereal, etc.
Fruit: All fruit, except small portions of berries like strawberries
Beans or Legumes: Peas, kidney beans, lentils, chickpeas, etc.
Root Vegetables and Tubers: Potatoes, sweet potatoes, carrots, parsnips, etc.
Low Fat or Diet Products: Low fat mayonnaise, salad dressings, and condiments
Some Condiments or Sauces: Barbecue sauce, honey mustard, teriyaki sauce, ketchup, etc.
Unhealthy Fats: processed vegetable oils, mayonnaise, etc.
Alcohol: Beer, wine, liquor, mixed drinks
Sugar-Free Diet Foods: Sugar-free candies, syrups, puddings, sweeteners, desserts, etc.
Avoid carb-based foods like grains, sugars, legumes, rice, potatoes, candy, juice, and even most fruits.
keto diet plan for weight loss
Foods to eat on Keto Diet Plan for Beginners
You should base the majority of your meals around these foods:
Meat: red meat, steak, ham, sausage, bacon, chicken, and turkey
Fatty fish: salmon, trout, tuna, and mackerel
Eggs: pastured or omega-3 whole eggs
Butter and cream: grass-fed butter and heavy cream
Cheese: unprocessed cheeses like cheddar, goat, cream, blue, or mozzarella
Nuts and seeds: almonds, walnuts, flaxseeds, pumpkin seeds, chia seeds, etc.
Healthy oils: extra virgin olive oil, coconut oil, and avocado oil
Avocados: whole avocados or freshly made guacamole
Low carb veggies: green veggies, tomatoes, onions, peppers, etc.
Condiments: salt, pepper, herbs, and spices
It's best to base your diet mostly on whole, single-ingredient foods.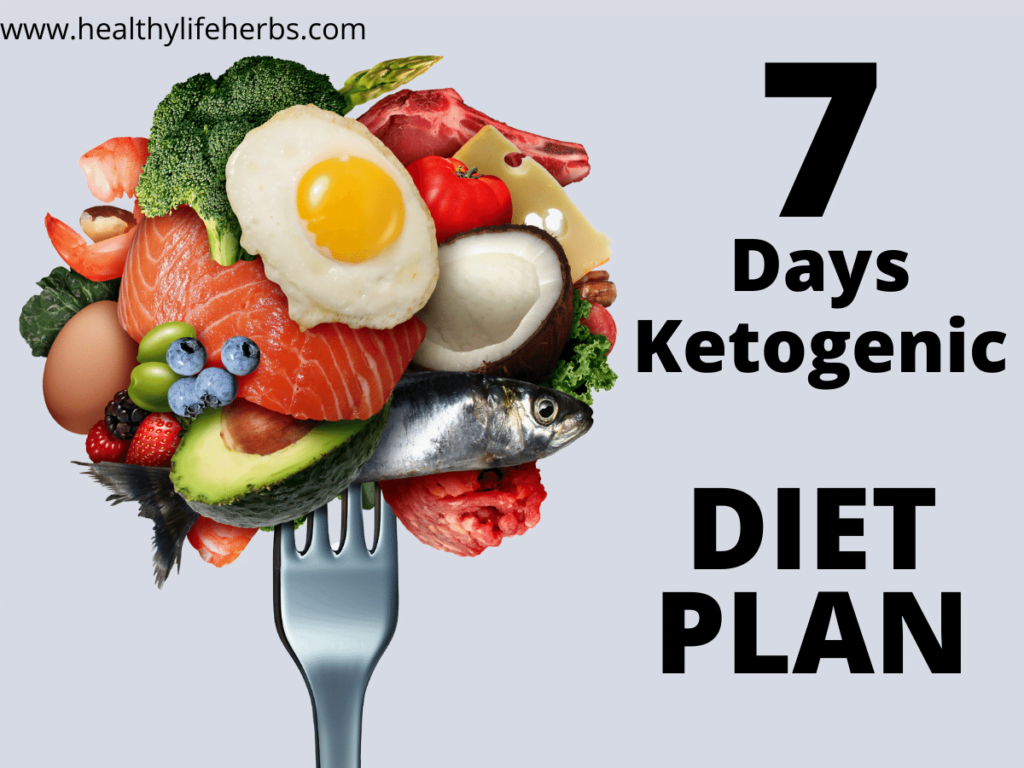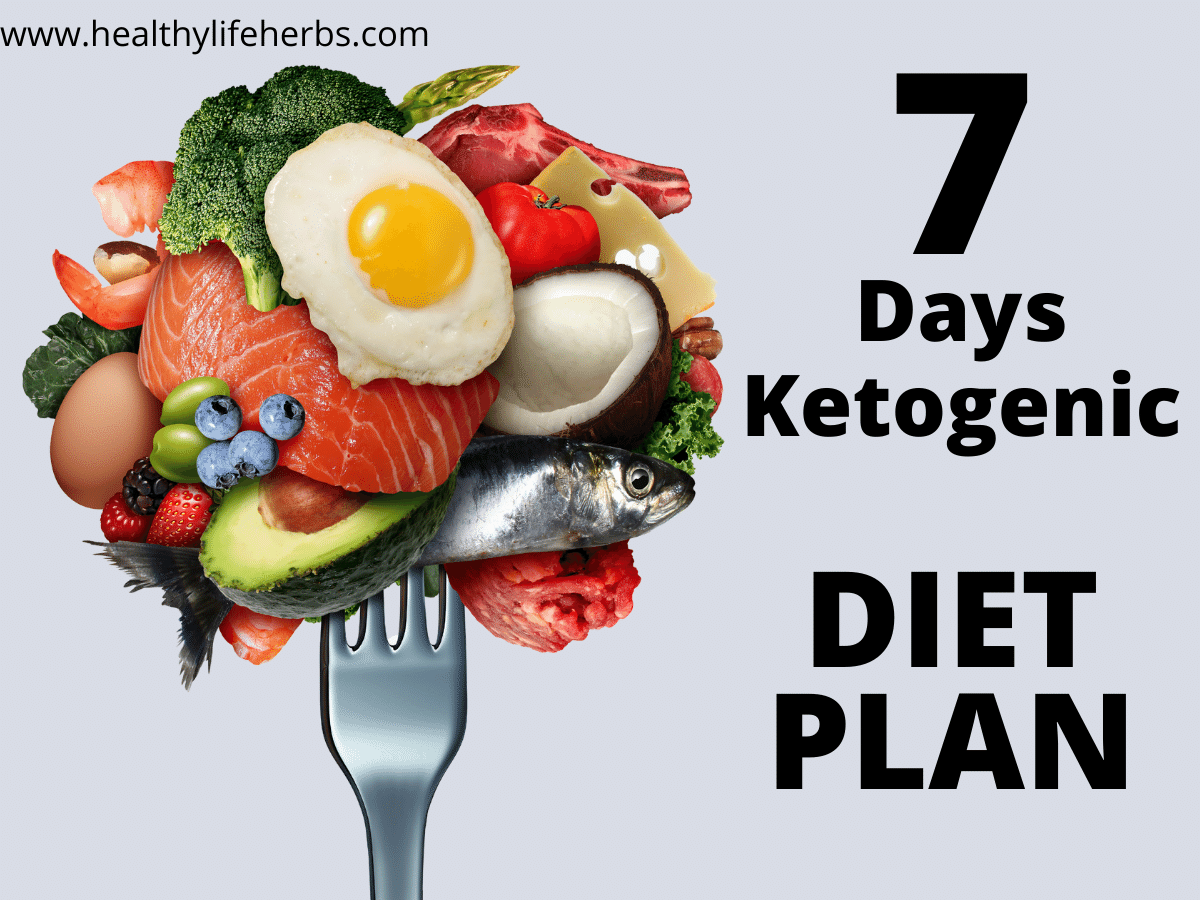 Keto Diet plan for Beginners (1 Week Plan)
To help get you started here's the Ketogenic diet plan for beginners for one week:
Monday
Breakfast: veggie and egg muffins with tomatoes
Lunch: chicken salad with olive oil, feta cheese, olives, and a side salad
Dinner: salmon with asparagus cooked in butter
Tuesday
Breakfast: egg, tomato, basil, and spinach omelet
Lunch: almond milk, peanut butter, spinach, cocoa powder, and stevia milkshake with a side of sliced strawberries
Dinner: cheese-shell tacos with salsa
Wednesday
Breakfast: nut milk chia pudding topped with coconut and blackberries
Lunch: avocado shrimp salad
Dinner: pork chops with Parmesan cheese, broccoli, and salad
Thursday
Breakfast: omelet with avocado, salsa, peppers, onion, and spices
Lunch: a handful of nuts and celery sticks with guacamole and salsa
Dinner: chicken stuffed with pesto and cream cheese, and a side of grilled zucchini
Friday
Breakfast: sugar-free Greek, whole milk yogurt with peanut butter, cocoa powder, and berries
Lunch: ground beef lettuce wrap tacos with sliced bell peppers
Dinner: loaded cauliflower and mixed veggies
Saturday
Breakfast: cream cheese pancakes with blueberries and a side of grilled mushrooms
Lunch: Zucchini and beet "noodle" salad
Dinner: white fish cooked in coconut oil with kale and toasted pine nuts
Sunday
Breakfast: fried eggs with and mushrooms
Lunch: low carb sesame chicken and broccoli
Dinner: spaghetti squash Bolognese
Always try to rotate the vegetables and meat over the long term, as each type provides different nutrients and health benefits.
What happens if you don't get enough Salt on Keto Diet?
When you don't get enough electrolytes on Keto, your health notices. We're talking about low energy, muscle cramps, brain fog, headaches, weakness, insomnia, and several other symptoms of the infamous Keto flu. The minerals called electrolytes are important for everyone, and they're especially important for Keto folks.
How much salt can you have on Keto Diet?
You'll need to incorporate extra sodium into your diet to counter this. Most ketogenic diet specialists suggest that followers should aim to eat two to four grams of sodium (2000-4000 mg) a day. Note that the minimum daily sodium concentration (RDA) for regular diets is 2300 mg.
Pink Himalayan salt is filled with minerals such as potassium, magnesium, and calcium. For those on keto, it is a favored alternative because it is rawer in shape and less refined. It is also known as Himalayan salt and is extracted near the regions of the Himalayas in Pakistan. It goes through mineral processing where no chemicals are added. This salt has the highest mineral nutrients (84) which are very much essential for the functioning of a normal body.
Benefits of Pink Salt: This salt contains all the essential minerals such as calcium, zinc, iron, magnesium, potassium. Apart from valuable minerals it also balances the body pH level and helps in the regulation of blood sugar levels. Pink salt is the perfect salt for cooking food.
BUY PURE HIMALAYAN PINK SALT ONLINE
Tags: ketomeal, keto diet plans free, free keto diet plans, meal plans for keto diet, menus keto, simple keto meal plan, keto diet menu for beginners, keto diet plans, ketomeal, keto meal plan, keto diet meal plan, free keto diet plans, keto diet plans free, low carb meal plan, keto diet menu, easy keto meal plan, meal plans for keto diet, menus keto, keto diet plan for beginners, keto diet meal, simple keto meal plan, keto plan, sample keto meal plan, keto diet menu for beginners, vegan keto meal plan, keto meal plan delivery, 7 day keto diet plan, keto weekly meal plan, keto beginner meal plan, keto menu plan, vegetarian keto meal plan, custom keto diet, 28 day keto challenge, best keto diet plan, 1200 calorie keto meal plan, keto diet plan for weight loss, 7 day keto meal plan, lazy keto meal plan, 30 day keto meal plan, sample keto diet, keto on a budget, keto meal prep delivery, keto sample menu, keto meals for beginners, keto challenge, keto plan for women, 2 week keto diet meal plan, best keto meal plan, keto daily menu, keto custom plan, keto daily meal plan, keto diet chart, 7 day keto diet meals, 1200 calorie ketogenic diet, keto food plan, konscious keto meal plan, keto meals for a week
Related: Why is Himalayan Pink Salt is so Important on Keto Diet?